REGURGITATOR With new single NO SHOW from the most recent album currently seeking out the waves of various radio devices and a video in the making we can emit more good timings for the sully season…
The SUPERHAPPYFUNTIMES2011XMASMASHUP at THE ZOO in Brisbane on DEC 18… and super furry friends trawling the undergrowth with us including from Melbourne OUCH MY FACE whom Ben is currently playing bass with… along with the "idiot pop" of Brisbane's CANNON who released a 17 track 27 minute long album this year.
OUCH MY FACE http://www.facebook.com/pages/Ouch-My-Face CANNON www.facebook.com/cannonbrisbane
Also now stitched in around the Big Day Out shows will be a return to coastal Perth with another possibly crazed stint at the INDI BAR, Scarborough on SAT 4 FEB evening before the BDO there. Tickets on sale in the coming week…
Other submissions to the live corona are…
The SUPERHAPPYFUNTIMESNEWYEARS2012SMASHUP at THE CORNER in Melbourne rather coincidentally on DEC 31 which this fiery little night of frills features from the UK the man with the perambulator LEWIS FLOYD HENRY – 30 watts and home-made drums most known for his version of Wu-Tang Clans "Protect ya Neck" www.lewisfloydhenry.com , OUCH MY FACE, SEJA VOGEL (in solo mode) and newsome HIGH TEA. Squeezed inbetween the "UNIT only" performances at FALLS & SOUTHBOUND this will be a slaphappycrazed night of where we let it all go in a lung's load of everything.
Word is now way out that we patched ourselves onto the 2012 BIG DAY OUT… stitched in with the likes of DAS RACIST, GIRL TALK, ART VS SCIENCE, BATTLES, ODD FUTURE, ARCHITECTURE IN HELSINKI, MARIACHI EL BRONX, FOSTER THE PEOPLE and more… Regurgitator for your viewing delight will be crocheting Auckland, Gold Coast, Sydney, Melbourne, Adelaide and Perth. Details available from here: www.bigdayout.com And given we are finally making the trek to the sorely missed New Zealand for the AUCKLAND BIG DAY OUT… the travel was accidentally ticketed into Wellington so we are taking advantage of this blunder and have added in a superhappyfuntimes set at the SFBH with erstwhile compatriot DISASTERADIO onboard for a seriously good whacking. This will be a extensive set covering everything from the new album SuperHappyFuntimesFriends back across the great wide catalogue to hopefully leave the room sweating with happiness. Until then tickets are on sale from usual outlets.
This ain't no no show!
REGURGITATOR live
DEC 18 Brisbane THE ZOO SUPERHAPPYFUNTIMES2011XMASMASHUP Plus special guests OUCH MY FACE & CANNON Tickets from: Oztix outlets online www.thezoo.com.au and regurgitator.oztix.com.au
DEC 31 Melbourne THE CORNER SUPERHAPPYFUNTIMESNEWYEARS2012SMASHUP Plus special guests LEWIS FLOYD HENRY (UK), OUCH MY FACE, SEJA VOGEL & HIGH TEA. Tickets from: Corner Box Office (57 Swan St Richmond 12-8 Mon-Sat), phone 9427 9198, online www.cornerhotel.com and regurgitator.oztix.com.au
JAN 18 Wellington SFBH Plus special guests DISASTERADIO Tickets from: undertheradar.co.nz and RPM Records, Vivian Street.
FEB 4 Perth INDI BAR Plus special guests Tickets from available nest week: www.heatseeker.com.au and outlets regurgitator.oztix.com.au and Oztix outlets.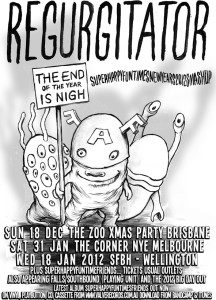 DEC 18 Brisbane THE ZOO xmas party
DEC 29 Lorne THE FALLS performing "Unit" only
DEC 30 Marion Bay THE FALLS performing "Unit" only
DEC 31 Melbourne THE CORNER NYE party
JAN 7 Busselton SOUTHBOUND performing "Unit" only
JAN 18 Wellington SFBH plus special guest DISASTERADIO
JAN 20 Auckland BIG DAY OUT
JAN 22 Gold Coast BIG DAY OUT
JAN 26 Sydney BIG DAY OUT
JAN 29 Melbourne BIG DAY OUT
FEB 3 Adelaide BIG DAY OUT
FEB 4 Perth INDI BAR
FEB 5 Perth BIG DAY OUT
SUPERHAPPYFUNTIMESFRIENDS out NOW! Featuring NO SHOW; ONE DAY; ALL FAKE EVERYTHING and more Available on CD & VINYL via Valve/MGM and CASSETTE & PLAYBUTTON from the online store www.valverecords.com.au/shop/ Downloads from ITunes etc and Facebook: www.facebook.com/regurgitators Or from Regurgitator's bandcamp page: regurgitator.bandcamp.com/ We love dissemination!