BACK TO THE BAR – University of Newcastle Alumni Reunion Homecoming.Event press release: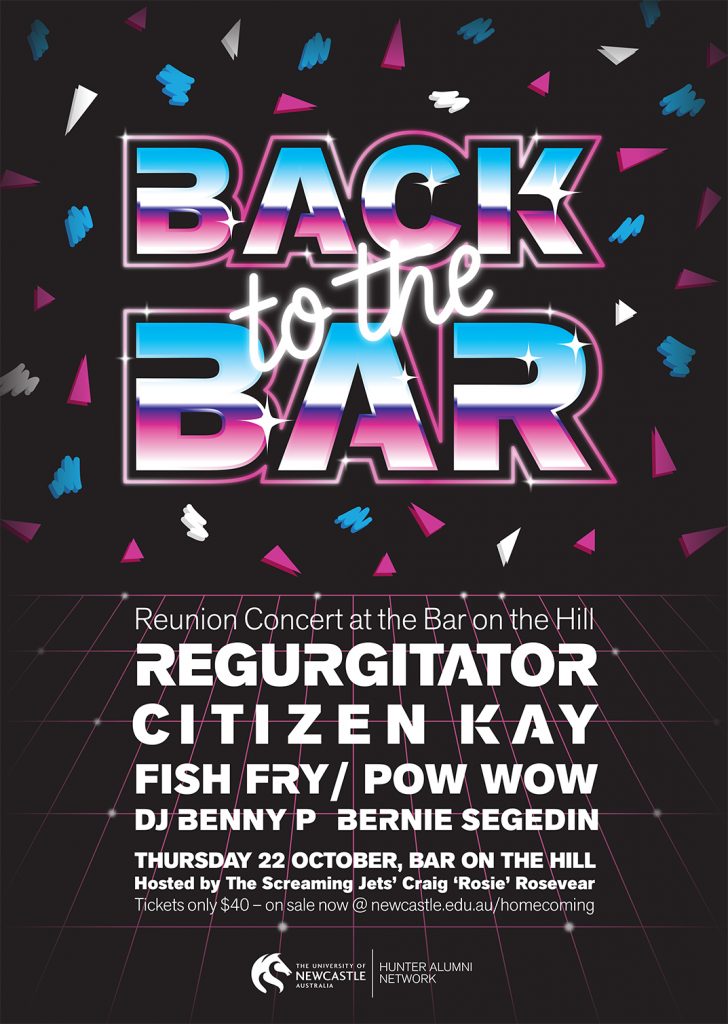 Relive your glory days at UON's first Bar on the Hill Alumni Reunion – Regurgitator headlines line-up of local talent and Aussie exports
Dust off your dancing shoes and get ready to come 'Back to the Bar' for UON's first Bar on the Hill alumni reunion. Regurgitator headline an awesome line-up that includes Citizen Kay, Fishfry/Pow Wow, Bernie Segedin and more!
UON grads, past and present staff, students, and guests are invited to this special event as part of the University's 50th anniversary celebrations. Join Aussie rock legend, drummer from the Screaming Jets, Craig 'Rosie' Rosevear as he MC's the night, and reconnect with your uni crew at the social centre of UON.
Gather your uni grad group and take advantage of our special offer – bring 5 other grads and get your ticket free! Get five of your mates to buy a ticket to Back to the Bar and then send us their names and we'll send you a free ticket!
Back to the Bar is hosted by the Hunter Alumni Network and will be a highlight of the University's Homecoming celebrations – a three day festival of events across Callaghan campus and the city from 21 to 23 October. Tickets are on sale now!
Back to the Bar
5pm, Thursday 22 October
Bar on the Hill, Callaghan campus
Tickets from: http://www.uononlineshop.com/index.php/conference/conferences-events/alumni-homecoming.html