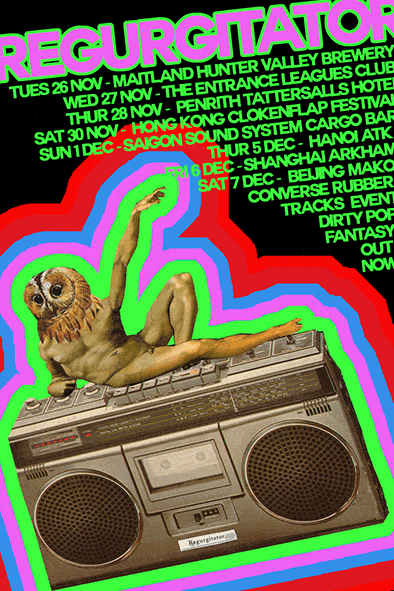 REGURGITATOR play some final fantasy shows Australia and Asia.
One more tip off the reality scale sees Regurgitator by some dirty miracle perform these upcoming extra shows next week on the outer realms of Sydney latently added to the recent past Dirty Pop Tour.  These shows which will most definitely be the last shows on Australian shores for probably quite sometime appear in conjunction with a slot of the steadily growing-in-prowess CLOKENFLAP FESTIVAL in Hong Kong on SAT 30 NOV followed by a string of in shows in what are almost hometown hangs Vietnam and China including a huge Converse Rubber Tracks Event in Beijing that also includes COLDCUT. Dates and details below.
To coincide with this and as we enter the land of the jolly we have the special christmas Dirty Pop BONUSBLASTER tracks that went up this week on the Regurgitator band camp page… get some EXCELLENT… FUN FUN FUN!
NEW ALBUM DIRTY POP FANTASY continues to garner some irresistibly sweet reviews in the Australian music press…
THE AUSTRALIAN 4/5 http://www.theaustralian.com.au/arts/review/dirty-pop-fantasy-regurgitator/story-fn9n8gph-1226746581766
SYDNEY MORNING HERALD 4/5 http://www.smh.com.au/entertainment/music/regurgitator-dirty-pop-fantasy-album-review-20131107-2x3m1.html
Go with it while the heat is on… and take the trip if you can.
REGURGITATOR
the final pop fantasy shows 2013
TUES 26 NOV – HUNTER VALLEY BREWERY Maitland
Plus guests Monrobot & The Cities
Doors 7:00pm Tickets available from www.oztix.com.au and the venue
WED 27 NOV – THE ENTRANCE LEAGUES CLUB The Entrance
Plus guests Sea Legs & Little Earthquake
Doors 8:00pm Tickets available from www.oztix.com.au and the venue
THUR 28 NOV – TATTERSALLS HOTEL Penrith
Plus guests Angel Awake
Doors 8.30pm See venue for entry details.
http://www.tattersallshotelpenrith.com.au
SAT 30 NOV – CLOKENFLAP FESTIVAL Hong Kong
Also including Franz Ferdinand (UK), Chic (ft. Nile Rodgers) (US), Modeselektor (DE), Cloud Control (AUS), The 1975 (UK), Ellen Loo (HK), Gold Panda (UK), Juana Molina (AR)… and over other days… Two Door Cinema Club (IRE), Black Rebel Motorcycle Club (US), Four Tet (UK), Omar Souleyman (SY), Austra (CA), Cui Jian (CN), Metric (CA), 2ManyDJs (dj set) (BE), Tegan and Sara (CA) and many more…
www.clockenflap.com
www.facebook.com/clockenflap
SUN 1 DEC – SAIGON SOUND SYSTEM at CARGO BAR Ho Chi Minh City
Plus BONAPARTE (from Germany)
http://www.saigonsoundsystem.com/shows_page/regurgitator-bonaparte
THUR 5 DEC – ATK Hanoi
Plus guests
www.cama-atk.com
FRI 6 DEC – ARKHAM Shanghai
Plus STDJs
www.wearestd.com/ben/regurgitator-aus-arkham-december-6th
SAT 7 DEC – MAKO Converse Rubber Tracks Event Beijing
Plus COLDCUT (from the UK) and more