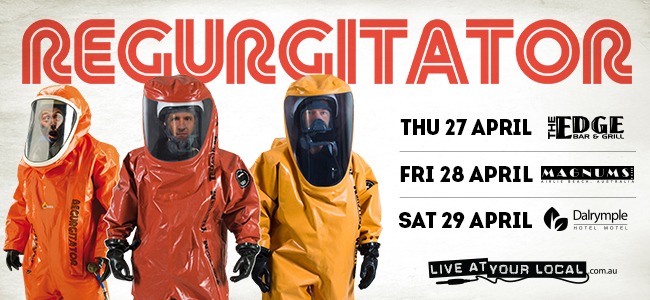 'Regurgitator hit North QLD for some special shows' 
Brisbane's REGURGITATOR started in 1994 and quickly established themselves as an articulate and witty purveyor of the Australian music scene – assembling a mishmash of funk, punk, pop, electronics and any other style that stuck to the sides… with unmitigated irony and a geekish nature. After a series of resounding performances they embarked on their first tour of Europe (with Filter) before stopping in Bangkok to record their first album "Tu Plang" (Thai for 'jukebox'). 
"The past few years have seen Regurgitator do some superfluous shit. It's all pretty interesting – the costume changes, the gimmicky record and release strategies, the full-album live sets – but tonight they achieved something far more pure. In straight power-trio formation (no spandex onesies, no heavy metal wigs), they performed what could well be the set of their careers". Always time for fun, Regurgitator continue to infuse their live performances with exuberance and mania and their mashup rock and electro vibes. 
Fresh from some stellar performances at Sydney Festival and Hobart's MONA FOMA in January, Regurgitator are heading to Cairns, Airlie Beach and Townsville to treat their north QLD fans to some unadulterated fun and good times. 
Announce and on sale now.
Thursday 27 April CAIRNS Edge Hill Tavern
Doors: 8pm 
Tickets from venue or Moshtix 
Friday 28 April AIRLIE BEACH Magnums Hotel 
Doors: 8pm 
Tickets from venue or Moshtix 
Saturday 29 April TOWNSVILLE Dalrymple Hotel 
Doors: 8pm 
Tickets from venue or Moshtix